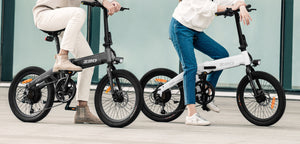 What are the differences between the Z20 and Z20MAX?
Z20 VS Z20 MAX (Speed Reading)
1. Z20MAX complies with European road regulations, with European road support.
2. The Z20max product is a 2. upgrade of Z20 product on the performance and quality.
If there are road regulations in your area and a compliant product is required for road riding, the Z20Max is the recommended choice;
For more details, please read on.
Qualification
Z20MAX is complied with the regulations of EU EN15194:2017 and has obtained the SGS CE certificate. That is to say, the Max series all have road approval for using in EU.
The CE Directive requires that the serial number must be permanently and clearly marked on the e-bike frame, you can find the serial number and CE label on the ebike frame, which is on the frame just below the seat cushion.
Quiality
Z20MAX quality and safety have been greatly enhanced. According to the EU EN15194 standard, SGS laboratory tested the strength, endurance and performance of the whole bike and parts (motor/battery/headlight/bells/pedals) for 100000 times, and all of them passed the test and got the CE certificate.
Controller
The Z20MAX 2.0 control system has passed EN13849 software safety assessment test, safer and more intelligent. It can match the riding mode according to different riding conditions, which is more energy-saving and efficient.
Z20MAX 2.0 control system
Battery
Z20MAX Lithium-battery certified by CB62133, 18650 power lithium battery, BMS smart battery management system, seven protection technologies and 10 AH ample power.
Z20 Battery Certified by CB62133
Light
Compared with the Z20,the headlights of the Z20MAX,with certified by E-Mark, have a wider illumination range with 20meters and brighter brightness. And also added a long-distance reflection function, safer riding.
Z20MAX with refector and E-Mark certificate
Handlebar frame fixing
The handlebar frame of the Z20MAX is reinforced, durable and not easy to wear.
Z20 Adjustable and easy to loosen
Z20MAX new fixing system(Can withstand 10,0000 shocks)
Pedal
The upgraded stability of the z20max's foot pedal is aluminum alloy Material, can fully withstands the 100,000 times pressure test, making the wear-prone parts more stable.
Z20Max Better quality pedal and stronger
Grip
The grid of Z20MAX is more comfortable, suitable for long rides and more resistant to wear and tear.
Z20MAX Good quality grips
Key Difference
The parameters are basically the same, the differences are shown in the following table:
Item






Model/

Specification

Z20
Z20 MAX
Size of Tyre
20inch
20inch
Weight
21.5kg
22kg

Range(Electric-assisted)

about 80km

about 80km

Motor Power
250W

250W (Pass EN15194 certifcation)

Battery
36V10.5 AH

36V10.5 AH (Pass IEC62133)

Controller

1.0 control system

2.0 control system (Pass EN15194 certifcation)

Throttle

Yes

No (Compliant with EU standards)

Motor
250W

250W (Pass EN15194 Certification)

Light
Normal light

E-Mark/Z-mark

Bell/alarm device
Normal bell

ISO 14878 Class II.

CE Label
No

Yes

Handlebar frame fixing

Adjustable and easy to loosen (Can withstand 10,000 shocks)

New fixing system (Can withstand 100,000 shocks)

Pedal
Ordinary plastic

Aluminum alloy Material

Brake

Front and rear Mechanical disc brake

Front and rear Mechanical disc brake
Main Specification
The specification of z20 and z20max are following:
Basic

Model

Z20

Z20 MAX

Release date
2020, April
2022, February
Body
Folding size
86×74×61 cm
86×74×40 cm
Unfolding size
147×61×109 cm

147×55×109 cm

Frame material
Aluminum alloy

Aluminum alloy

IP protection
IPX7

IPX7

Colors
Grey,White
Grey,White
Battery
Battery
10Ah
10Ah
Removable battery
Yes

Yes

Charging time

5-6 hours

5-6 hours

Specifications
Tire size
20inch

20inch

Brake type
Front and rear Mechanical disc brake

Front and rear Mechanical disc brake

Motor
250W

250W

Max. speed
25KM/H

25KM/H

Mileage
80KM

80KM

Max. load
100KG
100KG
Driving mode
Moped mode, Peadal mode, Pure electric mode
Peadal mode, Pure electric mode,
For more information of model compare, please refer to :https://himobikes.com/pages/compare-models